We hopped on the early train to Dusseldorf, first class of course (see earlier post on fancy gays)...
Even though we were a little tired, we were still excited to be heading to Dusseldorf for the first night of Eurovision! Did I mentioned that we traveled there in style? I only say that again because that is DEFINITELY where the fancy portion of out trip ended.
Four relaxing hours later, we arrived in Neuss, which is a small town just outside of Dusseldorf. Apparently every gay in Europe had already booked Dusseldorf, whomp whomp (the first of many to come)
We finally got to our hotel in beautiful Neuss (and by beautiful i mean not). We tried to check in but couldn't because the card reader wasn't working so we had to wait 20 minutes for them to figure it out, whomp whomp. Once we got our key we got in the elevator that was clearly built by the Lollipop guild...
It also took us about 5 minutes to figure out how to get into our room lock thing is older than we are combined, whomp whomp. Once we got into the room, I just have no words to describe it, other than it is kind of like the room that time forgot, so we will start with a collage...
Here is the amazing color scheme...
Beautiful right? And then these are some of the "accessories" in the room...
Apparently they still make those, and anyone want to listen to music, it's covered...
I'm pretty sure my Grandpa had this radio on his boat when I was 5. Oh, and in case you get hot, there is this shoved in a cubbyhole...
And apparently by "wi-fi" they mean "no-fi" because ya there ain't any, it's more like "liar-fi". Let's not forget the beautiful view...
Picturesque ain't it? Oh and if you need an iron or ironing board, "the iron" as in the 1 for the hotel is currently in another room, but they would be happy to try and steal it for you from that room. Really?!?
The only positive to this room, is that they gave you a few options to end things...
Yes that is a wire going from one end the wall to the other, it's convenient for a hanging. And in the case of that event, they have your last rights covered...
So all in all, this is how we feel about this place, whomp, whomp...
Which for some reason is in the bathroom, apparently they don't want you to go to the bathroom either (insert sad trombone here) But if you don't heed our warning, they have "business cards"...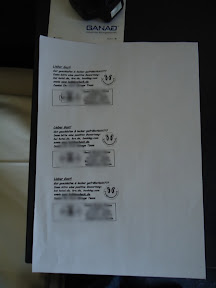 Yes those are indeed photocopies of business cards, not actaul business cards. With that we are heading out to the show,which apparently we can't bring a camera to...say it with me everyone, whomp whomp!
- Posted using BlogPress from my iPad
Location:Dusseldorf