We went to the dress rehearsal for the show last night and apparently imam just an idiot and you were allowed to bring cameras to the show last night. I know I suck, but fear not because thankfully we get to go to the live finale tonight!
I know you have all been dying to know just how amazing Eurovision is!! And if not hopefully this blog as provided a modicum of distraction while you have been "working". And to all the bosses out there, I am not in control, I am just a measly servant, providing idiocy to the masses.
Okay, with the disclaimer out of the way, let's get down to business. It's the last day in Germany, so there is a lot to cover. We started the day, wandering around Dusseldorf waiting for Asan's cousin Mayanna to meet up with us.
While we waited, Asan told me about something called Spaghetti Ice Cream. It sounded like he was joking, but we went to a cafe and he showed me this...
This was too good to be true, apparently this ice cream is pressed through a potato ricer and served to look like pasta, I know ridiculous right?!? Uhh ridiculously amazing also! I order the traditional spaghetti ice cream and this is what I got...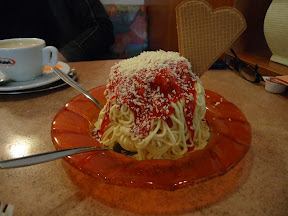 Vanilla ice cream (spaghetti) with strawberry sauce (marinara sauce) and shaved white chocolate (parmesan cheese). Yeah it was kind of amazing...
After we finished fighting over the last bite, we went to meet Mayannah, and like everyone else in Asan's family, she was pretty fantastic...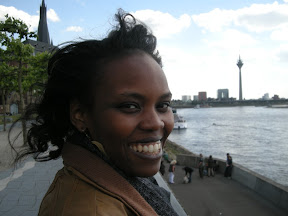 Being a teacher in the area, she took us around Dusseldorf for a bit, before heading down to the Rhine for cocktails...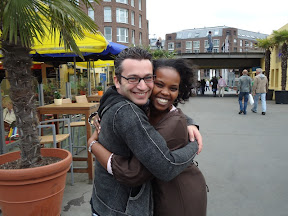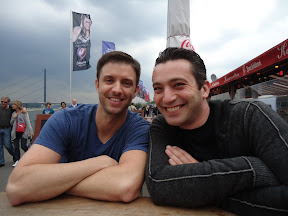 As we were walking around we started seeing people getting ready for the big night...
This picture is for Jon and Jeff, we found Irish folk with faux Jedward hair, and yes we tried to find some but apparently the Irish, like us, were too drunk to bring extra to Germany.
We also saw this...
Apparently Minnie Mouse, aka Heinrich loves Eurovision too!
And lets not forget this shmuck...
All in all Mayannah showed us a great time in Dusseldorf, but we are off to head home and get ready for the big show tonight...
- Posted using BlogPress from my iPad
Location:Dusseldorf