We get back to the hotel that time forgo and started getting ready for the show. Asan was completely beside himself with excitement...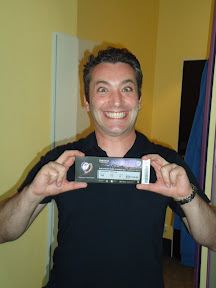 I was pretty excited too, but clearly not as much as Asan was...
We hopped on the tram and headed to the Arena. I knew it was going to be pretty campy there, but the level of gayness far exceeded anything I could possibly fathom, it was as if the spirit of Judy Garland, Cher and Celine Dion had taken over the Esprit Arena. Here are just some of the highlights...
I couldn't get the picture, but they were wearing lovely sparkly tops under their Union Jacks. And then this guy...
In a full body Union Jack unitard, and if you are picturing some strapping lad in the unitard, thing again, I'm pretty sure the size of the unitard was jumbo. Oh and let's not forget these German and Irish fans...
And for some reason these fans decided to drink one for themselves and one for their homies...
Speaking of booze we grabbed some/several cocktails before the show, mmm...
We settled into our seats which were pretty sweet, and so was the stadium...
And now for the highlights of the show. There were lots of boy bands, the good ones...
This guy sang about apples or something, but he was kinda cute in a folksy sort of way...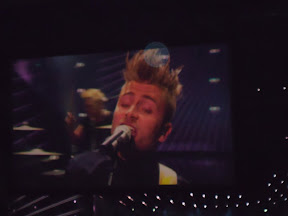 These guys were from Finland and had nice hair and tattoos, I was 2 cocktails in at this point, that's all I've got...
This guy was from Sweden and he sang a song called "Popular" and he pretty much was with every girl and gay in the place. Oh and he broke glass during his performance, careful!
This guy was from Russia, he was a pretty cheesy James Dean wannabe, he kept winking throughout the whole son, I thought he had a lazy eye...
And then there was Blue from the UK, they're hot, the end. And then there is Jedward...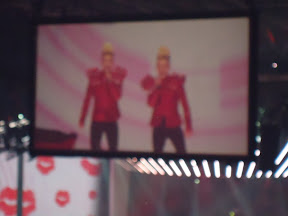 Most of the pictures of Jedward are blurry, because for 3 solid minutes they just jumped around like hyperactive squirrels with really big hair...
But I have to say they were pretty entertaining in their absolute horridness and complete inability to sing.
There were also a lot of female powerhouses too...
Like this woman from Hungary, great song, but she kinda looks a little mannish too no?
And this is the raining champ from Germany, Lena, defending her title, she lost...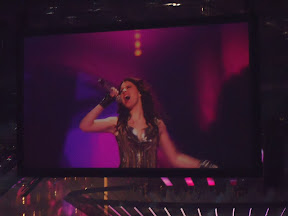 This girl from Slovenia was amazing, kind of like Christina Aguilera...Slovetina? No? Helloo? Is this thing on? Ehhem...okay moving on.
Here are the rest, who were all random ish...
There was French Josh Groban...
And this girl did magic! Abracadabra...you lost...
And let's not forget pissed off Jennifer Love Hewitt or Blossom, from Georgia...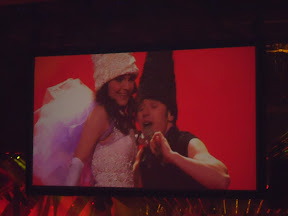 Oh and these two were from Maldova, they are wearing Gnome hats and she is on a unicycle, enough said.
In the end, the winners this year came from Azerbijan...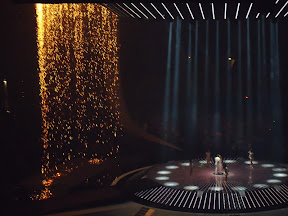 And that's all folks, it was a great week and great show, thanks Asan for an awesome time...
Now I'm off to meet B-rad and the in-laws in Italy! Ciao!!
Posted using BlogPress from my iPad
Location:Dusseldorf